<< back to list
Why did you choose Atlas MedStaff?
I respected the honesty and transparency the most. Even the employees of Atlas past spoke well of them and I was sold on giving it
a try.
Family:
Two younger sisters, one of which was married in June so now I finally have a brother too. Both parents still together local to Omaha.
Pets:
Just a dog currently, but looking to add another dog in the next few years.
Hobbies:
Competitive Softball, Fantasy Sports, Football, Gym, Movies and shows on HBO
Top five things on your Bucket List:
1. Go to the Bahamas
2. Restore an old Muscle Car
3. Learn Guitar
4. Visit every state in the U.S.
5. Start a family of my own
Favorite Quote:
"Not all those who wander are lost" -J.R.R. Tolkien
Tom's Videos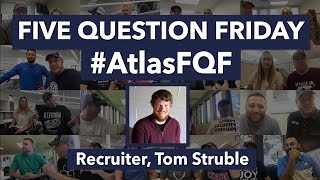 Five Question Friday